Ten – Yukon Youth (ten recordings)
Posted by
vibrations
on 22-10-16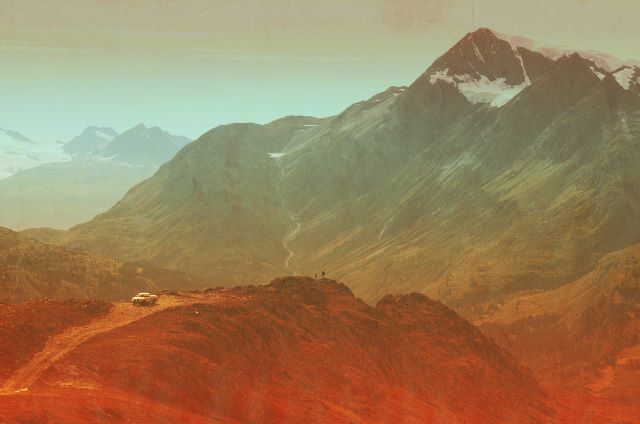 Ten is essentially the work of multi-instrumentalist and composer Dominic Deane, who has quietly pottered around music in Leeds for almost (ahem) ten years. Ten releases have been rare: the debut album, Journeys, came out in 2009 (it's not very good, but keep that to yourself), followed by an intermittent series of EP's that charted nothing so much as an artist in a slow and intelligent process of development. Around these releases Deane participated in several other projects, most notably as drummer for drone metal outfit Sunwølf and more recently as part of considered chamber poppers Deadwall. The last Ten release, Triangle of Hope in 2013, was good but the quantum leap from that to the poised, almost ruthless sense of purpose that characterises the quietly stunning Yukon Youth suggests Deane has had some kind of revelatory experience recently that has galvanised his creative juices.
While superficially of the ambient/electronica genre, Yukon Youth effortlessly outclasses the aimless meandering and flat tonality of most practitioners, with Deane's peers being the likes of Oren Ambarchi and Murcof, sound artists who have a similarly strong sense of personality and thematic intent and who, crucially, never play it safe. Deane cites watching the film Into the Wild as being the inspiration for the music on this album, and although a slight film in many ways, its story of a young man eventually turning his back on technological society and disappearing into, and eventually being consumed by, nature is good fuel for musings on life, death, infinity and our place in all three. Perhaps that's all Deane needed, a suitable spark.
Anyway, as befitting the inspiration the album seems to be built around an ongoing struggle for prominence between a dread filled low end pulse and lighter, high end tones that push and pull each other into new shapes and relationships and chart a shifting dialogue as they go. The opening track 'AE' (all the pieces except one have two letter identifiers) morphs seamlessly into the second, 'VZ', where tinkling piano runs and more strident chords are assailed by bone rattling throbs of bass. It's a tactic Deane returns to throughout the album, but the nuances and variations simply add depth and meaning rather than being repetitious or boring. This is largely because Deane can be fairly described as a 'composer' in that his arrangements and thematic developments are reminiscent of those of contemporary classical composers, in particular the minimalists.
Apart from the 'tunes' that emerge organically as a result of the interaction between Deane's component sound parts, a couple of tracks suggest he's also acquired the skill of coming up with more conventional 'tunes' too. The meditative and (seemingly) rain, birdsong and glitch inflected 'FB' is built around an exquisite clarinet monologue, courtesy of Sarah Taylor, while on 'CA' the languid brushed drums and distant harmonica-like sound support a heavily reverbed guitar (Tim Hann of Concur) as it slowly traces a subtly abrasive arc across the piece. Elsewhere, the bubbly, almost playful 'MM' is contrasted with dread soaked low and high end oscillations of 'BD', and closing track 'YOYOYO' points its muted Black Metal guitars to the stars for a suitably epic finale.
Steve Walsh
Yukon Youthis released on 31 October 2016. More info at http://tentheband.tumblr.com/