Bring Me The Horizon – Count Your Blessings
Posted by
vibrations
on 12-10-15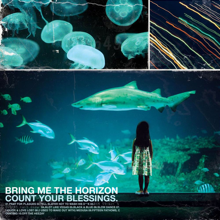 It's hard to remember a rock band in the last 15 years who've polarised opinion as much as Sheffield trailblazers Bring Me The Horizon. Latest album, 'Count Your Blessings' is likely to continue that trend as they move even further away from their early death metal leanings. Whilst the bands progression has been anything but contrived it's still head-scratchingly bizarre that in 12 years they've gone from being a perfectly competent metal band to an out and out electronic-rock outfit that have leeched more and more into the national conscience.
'Count Your Blessings' is utterly fantastic, of that there's no doubt. The sound is absolutely massive and their use of keyboard driven electronics brings a whole new kind of heavy to the table whilst also offering the level of aggression that fans of the band have become accustomed to. 'True Friends' for instance does the whole quiet/loud/quiet thing perfectly with a vocal intro seguing into a riot of guitars and classical-electro chops. Lyrically its borderline anthemic but leaning heavily towards juvenile drivel. Hey, the kids will lap it up though –you don't need a 35 year old hack to tell you that.
What is most definitely lacking on 'Count Your Blessings' though is riffs. Sure, there are guitars aplenty on the album but pretty much the whole record is keyboard/electro led which given that Lee Malia (along with original founding guitarist Curtis Ward) is no slouch in the riffing department is a huge shame. What riffs there are, are straight out rock. You want the metal of old BMTH? Forget it.
Bring Me The Horizon will go ever higher on this record and as we go to press it's already kicked the shit out of the UK charts. I just wish I could explain better exactly why it'll be so popular.
Rob Fearnley