X Ray Cat Trio - Out For Blood
Posted by
vibrations
on 04-10-15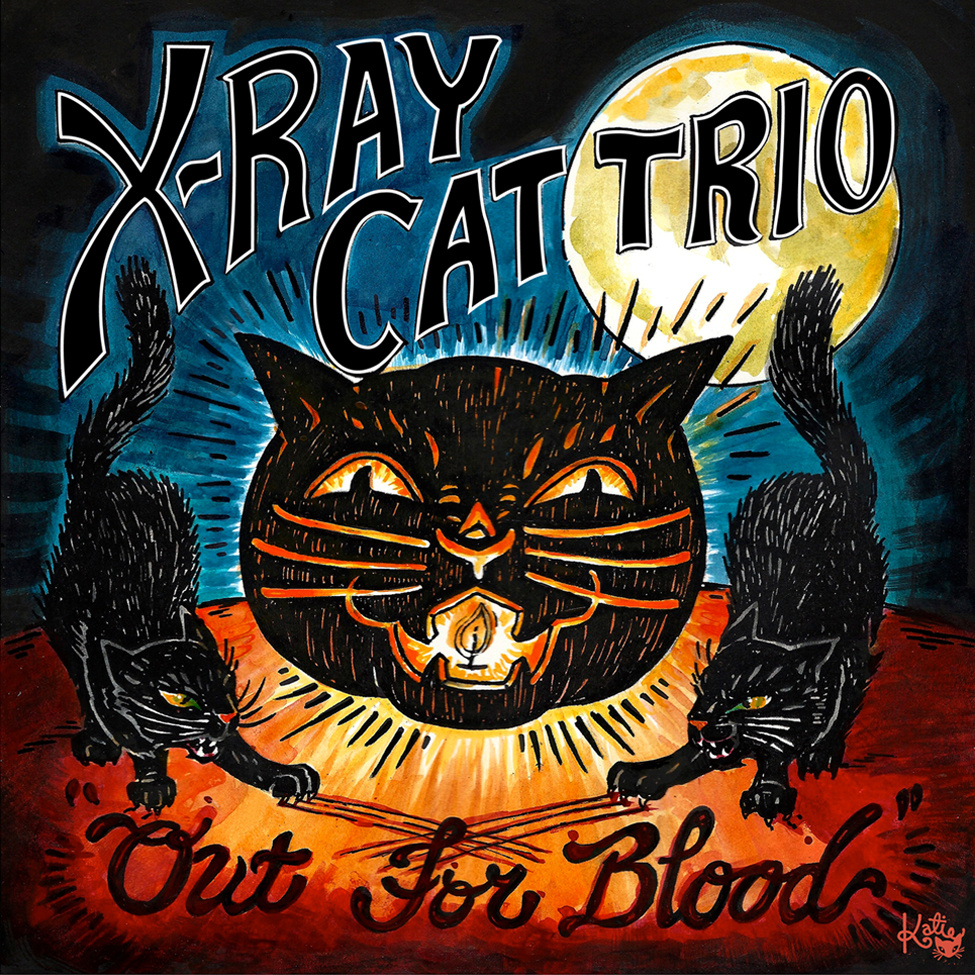 Rockabilly. It just won't stay dead, will it? However much you convince yourself that this relic from the 1950s has faded away there will always be a committed few in some dark, dingy club reliving or, experiencing for the first time, the primal pleasure of the early days of rock 'n roll. Irresistibly billing themselves as 'Vampyre Surf from Leeds, West Yorkshire' X Ray Cat Trio set out to prove on this, their debut, that there's life in the old beast yet. And, having lived with this album for a while, I can say that the evidence is largely compelling.
It starts engagingly enough with the theremin fuelled 'Surfin' Sasquatch' bringing to mind every red menace trashy no budget sci-fi movie you've ever watched at the drive-in and then slams into a spirited cover of Hayden Thompson's 'Watcha Gonna Do'. Singer and guitarist El Nico (also of sublime garage metallers Black Moth) does himself proud here – his urgent yelping making you wish that this wasn't only one of a brace of vocal numbers among the instrumentals that make up the majority of the album.
What great instrumentals they are though. You might fear with titles such as 'Rockero Fantasma' that you're just in for tired, old kitsch-o-rama but it's wonderfully played, sincere and fun. That said, a particular favourite of mine is the superbly titled 'Wolfcop' which is basically the theme from 'Dragnet' checking into a scuzzy motel for the night with The Cramps' 'I Was a Teenage Werewolf' under an assumed name. It's inspired by a recent Canadian horror flick making me hope this will start a tradition that will lead to them recording a tribute to 'Zombeavers' on their sophomore effort.
Not all of it works, the mariachi styled 'The Buzzard's Claw' is good but outstays its welcome fairly quickly. However, when it gels, as it does beautifully on the double whammy of 'L'Hiver' and 'Berenice' it's stunning. The main success of this album though is that it's convinced me I have to see this band and see them soon. They sound like almost the most fun you can have in a smal l room. They're a riot.
Alan Stewart