Leftfield - Alternative Light Source
Posted by
vibrations
on 24-08-15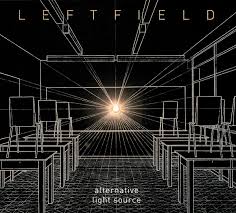 When people talk of 'loudest gigs ever', you'll usually have My Bloody Valentine, The Who and Motorhead in there (Jesus and Mary Chain are ridiculously loud too), but I don't think any of them have been banned from a venue due to structurally endangering volume like Leftfield. In the mid to late nineties, they ruled the raves for sheer brutal noise whilst bringing back John Lyddon better that butter ever did and providing the soundtrack for surfing Guinness lovers everywhere. And then, after merely two albums, they were gone.
Now they are back, and time has not diminished their sound though it has thinned its ranks from two to one, with Neil Barnes being the sole pilot on this planet smasher of an album. That said, there are notable collaborations with Channy Leaneagh, Ofei, Tunde Adebimpe, Georgia Barnes and Sleaford Mods, but Leftfield have always been known to play well with others. Despite or in conjunction with this, it is a very single minded album, lacking in some aspects the eclecticism of previous albums but sounding more serious and more intense for it.
From the opening boom of the bass in 'Bad Radio', Alternative Light Source plays like a nineties console game soundtrack, blending motorik and industrial, with vocals harshly, electronically distorted and the anticipation building throughout. 'Universal Everything', the first single, captures the looping trance and ubiquitous bass of nineties nights either meeting clandestinely in service stations for directions or (more likely) playing WiPeout into the wee small hours until your eyes bled – its nostalgia, but near at hand nostalgia, a theme continued in 'Bilocation' but with the darkness turned up full in the brooding, hypnotic vocal from Channy. Very shivery. 'Head and Shoulders', despite its big wobbly bass, is a bit of a misfire, with Sleaford Mods stinking it up to be honest, a nonsense track which might sound better with them excised from the mix. As consolation, 'Dark Matters' is a delicious ambient slow dance track, submerged beneath the bass and breaching occasionally, spectacularly, leaving ripples in its wake. Continuing the oceanic theme, 'Little Fish' is a jagged paranoid Knife like number, brutal in its beat. 'Storm's End' is full of epic chords and palatial 16 bit electronica. 'Alternative Light Source' and 'Shaker's Obsession' make a pair, the former building to the latter in a huge floor filling four four fantasia, hard and slow but soooo powerful. Finally, 'Levitate For You' leaves us in mellow bliss with Ofei creating a Faithless groove for your enjoyment.
It's a trip, it's a journey, it's a tribute to the lawlessness of dance music in the 90s, and save for one track it is a meaty return after nearly sixteen years. It is not a reinvention, more a continuation, and a reminder that, though you hadn't realised it, you'd really missed this guy.
Rob Wright