Cowtown - Paranormal Romance (The Audacious Art Experiment/Hot Salvation)
Posted by vibrations on 25-08-16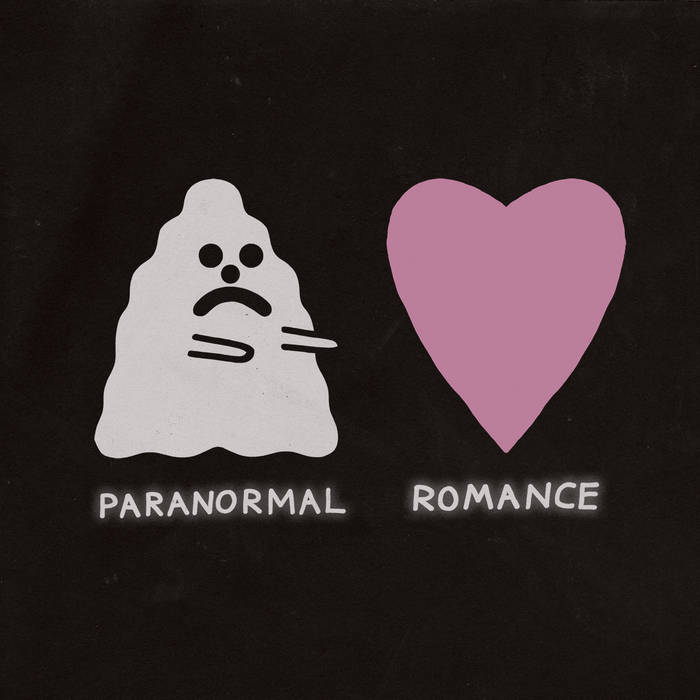 After more than a decade of operations most bands would at the very least be jaded and flabby, merely dragging around a useless, dried up husk of a bag that used to contain their musical inspiration. By now they would either be working on some vast, sprawling musical work of cosmic significance, or working their way out of a Class A drug habit, or simply trying to work out why the fuck they picked up a guitar, drum or…er, bassy keyboard thingy in the first place, all those years ago. Trying to work out why Cowtown are simply not that kind of band is not easy, which is odd because it's just so easy to get on with their utterly fantastic music.
So, despite years of slogging round the thankless DIY circuit and playing in umpteen other bands, Cowtown's fourth album contains not one jot of weary cynicism and turns out to be their most direct, focused, single-minded, repeatedly-punch-you-in-the-guts-Buster collection of songs to date. Of course, it helps that the whole thing runs to just over 23 minutes and that half the tracks last less than two minutes; never was the phrase 'less if more' more appropriate. Opener 'Paranormal Romance Theme' may be just a 30 second instrumental overture of sorts, but it kick starts a dizzying run of six songs that make the first half of the album a frenzied, careering delight. 'Clock In' is about, yup, going to w*rk ("I've got to/Get to/Weeeeerk") but its amiable jog is immediately stomped on by the reverb soaked, pilled up surf of recent single 'Castleman', which itself falls off a cliff into 'Tweak's bouncing, bubblegum punk, 'Motivational Speaker' opens out the landscape considerably but were talking rarified vistas of sustained purpose and precision here rather than anything airy-fairy, before the compressed mania of the 30 second 'Captain Planet' threatens to implode the whole enterprise. It's exhaustingly energising.
But, it's not all gonzoid, air punching wig outs. It has to be said that the band's early songs were more like cartoony instrumentals with similarly weighted lyrics added more like afterthoughts. Not anymore. To match the music, the lyrics on this album are an equally direct exercise in no frills, no bullshit precision and are (erk!) proper serious. But oddly the songs are peppered with references to a retreat from communication or social engagement, as opposed to the instant connection made by the music. So we get blasé disengagement ("I don't know/Play what you want/I don't care/Say what you want" – 'Castleman'), passive aggressive non commitment ("And I don't want to tell you my truth/And I don't want to be the one to tell you what to do…" – 'Let Go'), just no communication at all ("Don't know what to do/Don't know what to say/Say nothing at all/You got to say nothing at all….." – 'Motivational Speaker') or even moral ambiguity ("I can't tell the difference/Between wrong and right" - 'Buggin' Out'). They're oddly dark and unsettling sentiments for an album which is sonically such a giddy rush of joy, but point up the way the band have developed a more assured, mature style over the last few years.
It also has to be said that the playing of all three band members is utterly superb throughout and the album contains at least four songs that are destined to become stone cold Cowtown favourites - 'Castleman', 'Motivational Speaker', 'Castle Greyscale', and the closing 'Emojicore' the longest track here (puncturing the three minute mark by an impudent one second) driven by thumping bass and drums and featuring an epic, anthemic chorus designed for air punching and pogoing in sweaty clubs.
This album simply confirms that Cowtown are one of the best bands in the country and, frankly, if you don't get it there's something wrong with your ears and your soul at the very least…..
Steve Walsh
More info here https://cowtown.bandcamp.com here www.theaudaciousartexperiment.comand here http://hotsalvation.com
Cowtown play an album launch gig at their spiritual home the Brudenell Social Club in Leeds on Friday 26 August, support from Crumbs and Milk Crimes.