Out in the open: honesty on an epic scale from Dancing Years
Posted by vibrations on 21-02-16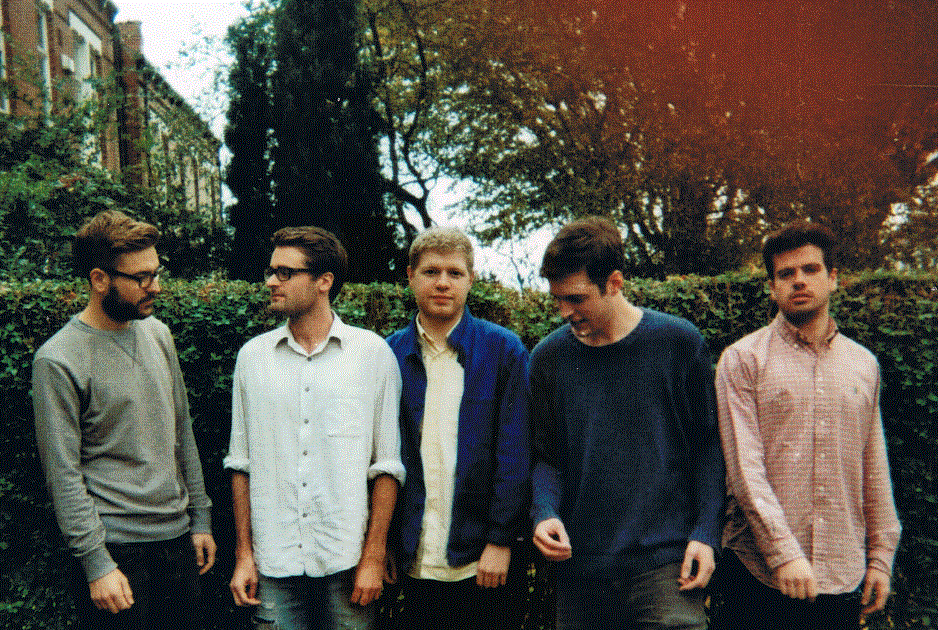 On the cusp of releasing their official debut EP as Dancing Years, there's a palpable excitement in the air at the DY camp. Having support tours with the likes of George Ezra, Dry the River and Eaves firmly under their belts, and with the guidance of Colin Elliot (Richard Hawley, Slow Club) to produce a beautiful batch of honest and intimate songs, things are definitely stepping up a gear for the band. Katharine Hartley spoke to guitarist Dan Fielding to get to the lowdown on what's next for the Leeds favourites….
K: So your new EP is almost out – what's the feeling like in the Dancing Years camp at the moment?
D: We're pretty excited! It's the first time we've released an EP together and we are really looking forward to getting it out there. The first thing that happened for us this year was finding out that Learn to Kiss was going to be play-listed by Radio 1, so knowing there'd be new people hearing it across the country everyday was an amazing feeling.

K: The EP has a real epic feel to it – alongside your trademark honest and emotive approach. What inspired the sound for this record?
D: I think for a while we were treading on each other's toes a bit, but we've tried to start being more considered when addressing dynamics, the combination of instruments for the feeling for the song, or what there's room for sonically rather than all just trying to force our own instruments into the equation. There was also a lot more equipment available to us at Yellow Arch Studios where we recorded than we've had before which widened the scope for arrangements even more.
K: You worked with Colin Elliot on the recording – what did he bring to the party?
D: He was really great. From the off he was quite clinically honest about what sounds, parts or even songs he thought would or wouldn't work with the EP, which gave us a really clear creative direction. He made things sound great from the start too, we knew it was going to sound good before he'd even mixed anything. Musically he also had a huge input: he's a great bass and double bass player which we lack amongst ourselves, and he arranged some brilliant string and synth parts for us too.
K: Your songs often deal with a range of pretty intimate emotions, and the themes in the new EP range from love and lack thereof, to our responses to seasonal change. Do you tend to write from personal experience?
D: Yeah I guess everybody does to an extent. Sometimes you draw on things you've experienced yourself or drawing on your own experience of things that might have happened to your friends or family, or even imagining things from their perspective. That's definitely how all the songs on this EP were written at least.
K: The video for Learn to Kiss has a bold approach – how did it feel for David to be in such close focus, and how does this relate to the story of the song?
D: I think after the first few shots, and getting used to the proximity of the camera it was pretty much plain sailing in terms of getting the takes. But there's an inescapable vulnerability and awkwardness, I think, when you're told to stand in front of a camera or a group of people and not really do anything - and that's what we wanted to capture - like a visual representation of intimacy and vulnerability in the song.
K: I love the concept of Neon Lights; the idea that seasons can affect our emotional states must resonate with many people in this sometimes-murky Northern city. What prompted you to write a song about this?
D: Yeah, it's quite an intense and regular illness for some people. With Neon Lights I suppose it was an attempt to imagine everything they have to force themselves through socially. It's an idea explored in 'April' too on a more personal, introspective level. I think the five of us are now an age where we're becoming more attuned with our moods, and the things that make us feel certain ways, whether it's people we're around, the kind of culture we're taking in or the lifestyles we're leading. But writing these two songs was an attempt to address a realisation that the cause can be uncontrollable and communicate the emotion of that realisation at the same time.

K: A lot has happened for you guys since the early days of Joseph and David. What's been your biggest achievement to date?
D: It's hard to think about achievements when you're so wrapped up in what you're doing! But I think every time we finish recording something feels like an achievement, when you finally set in stone something that started as just a few chords or a little melody and you hear it mastered for the first time and know complete.
K: What's on the Dancing Years stereo (I'm sure you all listen to a stereo) these days? Do you have any favourite local bands?
D: Haha, it's a bit of a mix really. Margaret Glaspy, this really nice Karen Dalton-esque Canadian singer-songwriter is getting played a lot. Locally, there are tonnes of artists we know and love. Eaves, who we toured with last year is up there, and Benjamin Francis Leftwich who will hopefully be releasing something again soon. Sam Airey has nearly finished recording an album too which we're looking forward to hearing, and I saw Actor the other day who used to be Witch Hunt, their singer is such a great performer.
K: It's great to see that you guys are back on the road. Do you have a favourite venue on home turf?
D: As per probably everyone from Leeds it'd have to be The Brudenell. I think because of its reputation and because Nath is so on the ball it draws in some huge, amazing artists for its size, and when you know they're probably off to play some O2 Academy the next day makes every gig there feel so special and intimate. We've played some of the best shows we've ever done there too, so I heavily associate it with the excitement of both those things!
K: What can we expect to see in 2016 from Dancing Years?
D: We'll be playing a few city festivals before summer and we're looking at a few little tours too. At the moment we're actually writing stuff for another EP which we might try and release this year, we'll just have to see!

Learn to Kiss is out now via Kobalt | www.dancingyears.com