Evil Blizzard - Emmerdale Harm
Posted by
vibrations
on 04-10-15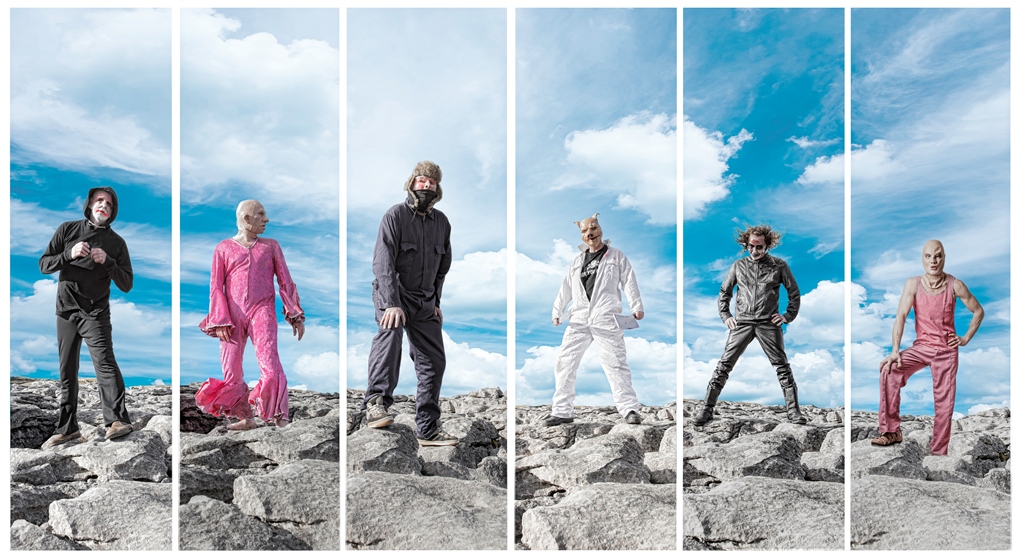 "I fucking love Evil Blizzard"………words uttered by celebrity super fan Dominic Brunt (aka Paddy from Emmerdale) when I bumped into him at Brudenell during a Hope and Social gig. A few months prior to this, Mr Brunt had allegedly joined Blizzard on stage (similarly disguised of course) for their final number during a hugely entertaining set for the British Wildlife Festival, again at Brudenell. The identity of the mystery guest bassist was kept secret from the audience at the time, cunningly obtained by yours truly from an acquaintance working on the merchandise stall……hence Mr Brunt's giddily enthusiastic response when I quizzed him about it. Since then he's directed the promotional video to the new Blizz singe 'Are You Evil?'
Preston's Evil Blizzard are one of the UK's top cult bands of the moment with a second album in the can and supporting tour dates lined up, despite each band member still having day jobs. Perhaps what makes them stick in the memory of anyone who witnesses their sinister live shows is derived from an eccentric combination of video nasty costumes, lascivious stage antics, not forgetting the fact that four of the five band members play bass, with the quintet completed by the drummer also in charge of vocal duties. There's also 'Blizzpig', their part-time on-stage dancer, presumably an out of work Bez in disguise. One might say they've taken the Alice Cooper look and the Sabbath/Hawkwind sound from the early 1970s and welded it all together for the doom-laden post-millennial palate, complete with sinister twists including a Theremin with a baby doll's head stuck on it, this disturbing combination ironically becoming one of the band defining logos.
Despite the Blizzard's unusual drum and bass and bass and bass and bass formation, these days there is enough technical wizardry about to help then create their surprisingly listenable brand of psych rock. With their splendidly overblown second album about to hit the stores, produced by Embrace's Richard McNamara of all people, the band are acquiring friends in high places. All this comes after first coming to the attention of Mark E.Smith who after witnessing one of their live shows (what also happened with McNamara) personally invited them to tour with The Fall bringing the Blizz to wider attention…..a most unusual request from someone who is notoriously scathing of most other bands.
The eight track sophomore release 'Everybody Come To Church', again released via Louder than War records, picks up where 'The Dangers of Evil Blizzard' left off, McNamara aiming to distil as much of their incendiary live performance into the new recorded material as possible, whilst also taking the band off in some different directions. After only a single day in the studio, the bones of album number two were complete and despite the lack of time at the controls, there doesn't appear to be any rough edges sound-wise. Opener ''Are You Evil' comprises the band's trademark gothic rock, albeit slicker sounding and with a sleazy metal edge, certainly more upbeat than their usual mid-paced drone. 'Stupid People' is a similarly mosh-pit friendly groover with smatterings of video game electronica adding to the melee. 'Spread the Fear' contains elements of dub complemented by eerie brass sections floating in the background, perhaps reminding one of Ghost Town, whereas 'Laughing Gas' is a chaotic funhouse of a track complete with Mark 'Side' Whiteside's Lydonesque evil cackles, presumably due to the inhalation of great lungfulls of the stuff. In similar fashion to its predecessor, the denouement consists of drawn out space rock freakoutery as we set our controls for the heart of the sun with the 10 minute long 'Watching'.
Chatting with David 'Kav' Kavanagh, one of Blizzard's four bassmen of the apocalypse, he confesses that this is the first time he's been interviewed and he's a little nervous although you wouldn't know to hear him in full flow. Firstly he explains how the Blizzard first came into being, "If we're talking about going back to the very beginning I'd have to say the idea was spawned in the mid-90s when Stu and I made up our minds to start a power trio called 'Brown Ring', based around loud, slow, heavy and very, very simple riffs. After the original drummer had to leave town we approached [Side], the best drummer in Preston late one night in the bogs of a local nightclub and were both surprised and overjoyed when he immediately said yes [to joining us], and to our further delight we discovered not only could he pummel a drum kit to death but he also had a mighty fine set of lungs on him.I moved away to Brum so Mark and Stu continued with a couple of line-up and name changes. Some of the early songs from those days have been overhauled and revamped and make up some of today's Blizzard set. Actual Blizzard started as just Mark and Stu, Stoko and I who were then playing in another band, saw an early Blizz gig and were totally blown away by the ferocious intensity they managed to whip up between them. At the end we both said to each other "I want to join [Evil Blizzard]" Next thing I know, Stoko's only just gone and done it. My chance came up when they had a gig booked with Ufomammut booked but Stu had to go to his mum's 70th birthday bash so I offered to step in as I already knew some of set from the Ring days and as you may have noticed there's not really a whole load of notes or changes to be learned in your average Blizzard tune. After that I was given a free pass to play whenever I wanted [to play] and I have wanted to ever since. It was only a matter of time before the fourth bass arrived on the scene, Mark and Pete have been best pals for life and always played in bands together. People thought we'd already gone too far with three basses but to be honest due to our set ups and the way we play we were actually pretty lightweight. Only when Pete joined did we get a decent thumping bottom end to our sound. In our band Pete is THE bass player".
Talking about the costumes Kav muses "Over the years many of the different bands we have all played in have all taken great pleasure in dressing up like idiots and pratting around on stage. We all know it's been done a million times before but I think we have our own slant on the mask and outfit thing, it makes us laugh and we still hear stories about how jaws do actually drop from folk who see us for the first time. Oh yeah, and we're all in our mid 40s and above, getting older and craggier. Who wants to look at that on stage?"
Indeed he may have a point, so if by reading this you fancy a night of rock and roll brain meltdown, catch Evil Blizzard live before they catch you!
Mike Price