The Beatherder Festival Turns 10!!!
Posted by
vibrations
on 06-07-15
Festivals tend to age in dog years, with some, mere mayfly existing for a few glorious moments before they disappear for ever or become something else entirely; while a few sell their souls for immortality. Beatherder, at the venerable old age of ten in less than two weeks, has suffered neither fate. Just as independent of spirit, just as good of vibe and just as, well, bloody fun, the festival has not just survived but is in its prime.
We here at Vibrations wanted to get the artists' take on what has become a staple, must got to event for those in the know, so we got together to talk music, festivals and Beatherder with one veteran and two first-time headliners. Felix Buxton, one half of legendary kings of the dancefloor Basement Jaxx, Jeremy Cunningham of UK folk punk pioneers The Levellers, and Barry Ashworth, frontman of the always glorious Dub Pistols. Enjoy.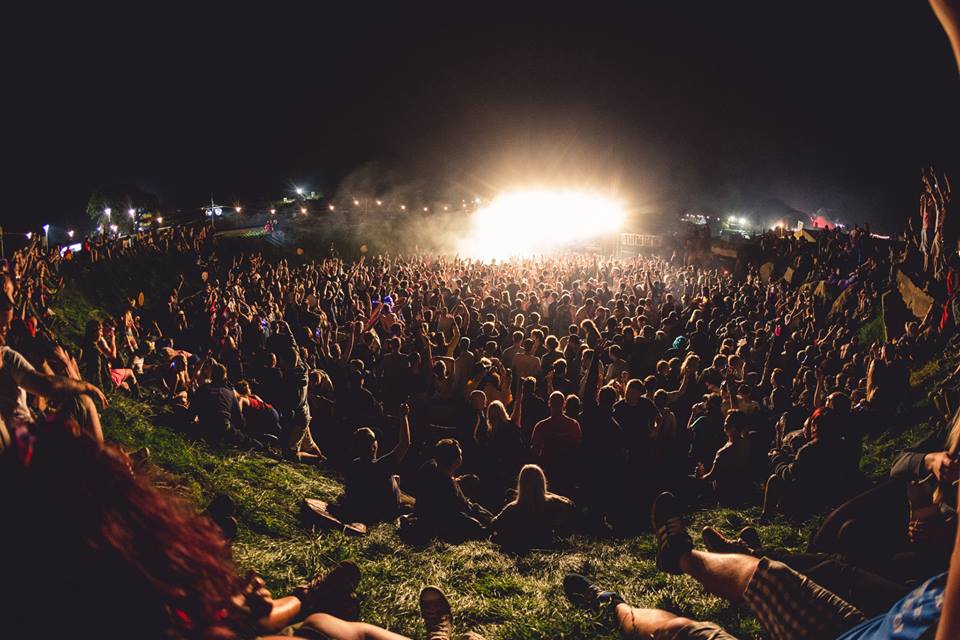 Vibrations: Hey there, thanks a lot for taking the time to speak to me. How are you doing today?
Felix: I'm great, cheers. I'm just mixing an album for Andrea Tarano. He plays romantic guitar music, which is a bit different.
Barry: Just sat in Heathrow Airport waiting to fly out to India. We're working with these promoters and festival organisers called Blue Frog. It's the opening of this big new club in Bangalore. We go out there quite a lot, it's awesome.
Jeremy: I'm just in the bank at the minute. Give me a second and I'll be out...
Vibrations: I see you have a stacked summer ahead festival's wise, can you put into words what makes playing festivals so special for you?
Felix: Well, it's what I do, it's my job. I suppose it's a perk to the job in a way because you're in a situation where people are hopefully experiencing summer and you're giving people a chance to let go and inspiring them, making them dance and generally making them feel better about the world they live in. That's a great position to be in and definitely not as hard as working in the NHS!
Jeremy: We've always done it. We grew up on that scene, it was the first thing we ever did and it's kind of easy really, you just put on the best show you can and that's it, it's all good.
Vibrations: Is there anything about the UK festival circuit that makes it stand out for you?
Felix: I think people are the same pretty much anywhere you go. We all like to dance and sing with other people and meet other people. People in England are probably braver as the weather isn't always too kind. There are certain places that you feel people really let go; Leeds is one and Scotland too. People are a bit more uptight in London or Paris. Big cities tend to take themselves quite seriously and that often translates to the audiences. Generally people up north lets themselves go much more.
Jeremy: I think they're pretty similar the world over but the thing about the UK is that it's a bit more chaotic, at its best when it's all going off, it's a little bit more edgy than the rest.
Vibrations: The Levellers formed pre criminal justice act, in the heyday of the UK free festival movement. Do you have any comments on the changes from then until now?
Jeremy: Well, we do our own festival called Beautiful Days, because back in the day we thought it was all getting too big. I mean, we still do those big one's because we have to, as a working band but we prefer the small ones really. The smaller, more intimate, more chaotic ones are the ones we like to be a part of, not the big, televised things.
Vibrations: Being born out of the London club scene, which is about as far from a festival field as you can get, do Basement Jaxx change the approach to playing festivals, as apposed to club gigs?
Felix: Well DJing in a club is quite different. That's playing a load of music that's around plus some Jaxx stuff, so it's a lot more low-key I guess, where as the live show is our hits and the best of the new stuff. Our singers are really amazing performers and we've got a ballerina with us, so it's quite theatrical. If we're DJing in a club there's no visual element to it, we don't do a striptease or anything like that! For our live shows we have ten people on stage and about eighteen people travelling around with us, which includes the crew and the backline guys. It's cool, there is a great vibe. People call it the Jaxx family because we all get on very well; we're all very positive people, which translates into the shows. I think it's my favourite, playing festivals, when there's a big crowd and everyone's in it together; you just get an amazing vibe.
Vibrations: I've been looking at the Beatherder line-ups back through the years and it looks as though The Dub Pistols, in one form or another are the most booked act.
Barry: Yeah, we've kind of been there from the beginning. Firstly, the vibe at Beatherder is just absolutely awesome. The crowd there feel like family, it's one of my favourite festivals in the world and to keep getting invited back year after year is quite an honour, it's something I'm quite proud of. You know that whenever you take to that stage the place is just going to rock and it never ever lets you down. They're the nicest bunch of promoters, the attitude is right. I love the build, the sets, the Fortress is amazing, the new Ring is absolutely out of this world, the Toil Trees is a fucking fantastic location and the main stage just kicks arse. It's just a fantastic event to be part of.
Vibrations: What do you think, if anything, that Beatherder have done so well to keep it going for ten years?
Barry: I don't think they've just kept it going. They've built it and they've built slowly. They've done it for all the right reasons, they never took a penny out for years, they book acts that they're passionate about, they don't necessarily book acts that are chart favourites. They're just really passionate about music and that's reflected in the crowd. They've never sold out, you don't see sponsorship there, they're just not interested, they don't want outside interference, they want to keep it real and that is the thing that I think makes it special.
Vibrations: This is the first year playing Beatherder for Basement Jaxx and The Levellers, what had you heard about the festival that made you want to play?
Jeremy: The rest of the band had heard great things about Beatherder and they've all been wanting to do it for a while now, so we were very glad for the offer.
Felix: We're quite selective in what we do, we don't just do anything and get on the road, maybe we should though! Beatherder was recommended to us as a really cool, vibey festival. We were told it was a really good one to play at, given the details and that was it. Generally you find smaller festivals can be the best. You find there's less of people being ripped off and over charged, which always bothers me with these things.
Vibrations: Can you tell me if you have any stand out festival memories from over the years?
Jeremy: I've got a few. Headlining Glastonbury was one, I was definitely glad to have done that. For me though, it was probably one called The Peckham Doll's House, which was a tiny little, like, squat festival back in the day. We'd all just been out on the anti Poll Tax riots and we'd all been separated in the chaos. We didn't know if we'd be able to do it, or even if there would be a gig with anyone there to watch it. It all went swimmingly though and I remember it with great affection. Of course, the very first Beautiful Days, our own festival, was pretty special, definitely will always remember that for the nostalgia value.
Felix: The first time we went to Korea, we'd never done a live show there and didn't even know if anyone would know our music. When we came out on stage the crowd reaction was amazing and it really took my breath away. The other time would probably be when we headlined Glastonbury on the Sunday night. There was this whole rush of energy. That was the first time where I'd played a gig and actually couldn't breathe because of this wave of energy and excitement.
Barry: The first time we played Beatherder as a band we turned up, it'd been shitting it down for days and the farmer came out and was like "It's bloody buzzing in there!" The van got stuck and everyone came out to help, you know, you wouldn't expect Michael Eavis to come and start pushing the tour bus, with the wheels spinning and getting you covered in mud. But the boys were all out there helping and that's what I love about Beatherder as a festival; it's real.
Vibrations: Cheers guys. See you in the fields!
Beatherder is held at a stunning locaton in the Ribble Valley, off the A59 between Clitheroe and Skipton and kicks off on Friday 17th of July… Which is less than two weeks away!!! Historically, Beatherder has sold out for the last few years running, so if you're thinking of going and haven't bought a ticket yet then sort your game out! As of the 30th of June, they have been very thin on the ground. See you all there. NO EXCUSES.
Words: Benjamin Paul, Images: Courtesy of Beatherder